Cancellation Protection
Ten80 Holidays - Master Cancel
From August 2020, Ten80 Holidays is very proud to offer cancellation protection on all new bookings. We have partnered with Master Cancel to remove the stress and worry from booking your next holiday.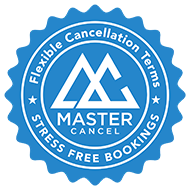 Book with confidence with Ten80 Holidays
Guests can now cancel up to and including 2 days prior to check-in and receive a full refund of the accommodation costs.
Our cancellation protection is included in the price of your accommodation. There's no additional cost to add.
More security and flexibility for you effective immediately
Cancel for unforeseen circumstances and receive a full refund, as long as you cancel at least 2 days before arrival.
Example: For a check in on Saturday, cancellations the prior Monday, Tuesday, Wednesday and Thursday would be covered. However, cancellations on Friday (1 day prior) or Saturday (day of check in) would not be covered.
There has never been a better time to book your holiday, so why not have a look at our promotions and book now with complete security and peace of mind!
For more information, see our Terms & Conditions.