The unmissable events in Chamonix!
Chamonix Mont-Blanc hosts many sporting and cultural events, from mountain running to music festivals and celebrations.
WINTER 2021 - 22
The Chamonix Valley offers many cultural and sporting events throughout the seasons: modern or traditional events, outdoors or indoors ...
Find all the events of Winter 2021-22 below on the link is an overview of the major events that will take place in the coming months.
CHRISTMAS HOLIDAYS 2021 - NOT TO BE MISSED
"La Région des Lumières"




P

lace du Triangle de l'Amitié, Chamonix
From 07 December to 02 January
From 7 pm to 8 pm
This winter, "La Région des Lumières" will be stopping in Chamonix
to project a magnificent "sound and light" show on the facades of the
Saint-Michel church and "Maison de la Montagne"
Every evening, except December 24 - Free Access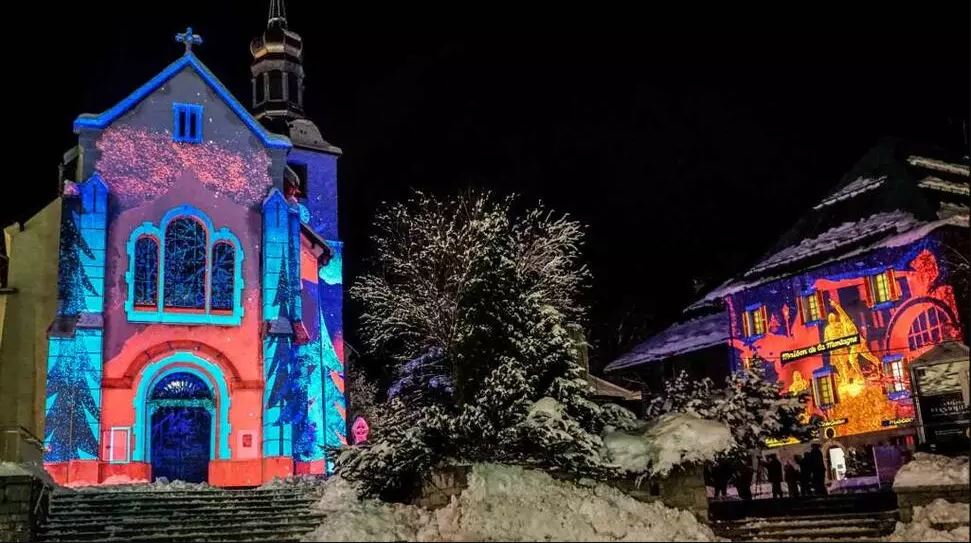 SUMMER EVENTS
Music Festivals
Cosmo Jazz Festival July
Started in 2010 Chamonix is the home of 'le Cosmo Jazz festival'. This festival was created by the visionary André Manoukian and is simply out of this world. The concert locations all use the local scenery as natural settings to increase the effect of the music and artists who are all also inspired by the settings. Listening to 'Beirut' by Ibrahim Malouf at the Lac Blanc or a grand Piano tinkling in the air at the top of Brévent or the soulful sound of Brazilian singers in Vallorcine are all some of my best memories. It honestly does not matter if you know the artists or not, the atmosphere is unpretentious and one of pure inspiration with the party carrying on late in the various bars of Cham. This is one of those that you tell friends about for years to come.
Festival des Heures d'Orgues
July to August
Each Summer the Festival des Heures d'orgue is the classical musical festival not to be missed in Chamonix. For the 27th year, the worlds most famous organists and other classical musicians come together to play their amazing instruments in the church of Saint-Michel. The concerts are free and on every day from 5pm.

The best sporting events
The Mont-Blanc Marathon
End of June
One of the most famous and like no other. The Marathon du Mont-Blanc weekend is a mountain trail event that brings together 8 different races over different distances and difficulties with runners gathering from all around the world to run with family and friends. A terrific atmosphere with loads of support along the trails.
World cup climbing
July
One of the best world cup stages – Speed racing and difficulty climbing all set in the centre square of Chamonix with thousands supporting. An amazing show and atmosphere that each year delivers drama and excitement.
UTMB
August
A huge and daunting run through 3 countries: France, Switzerland and Italy all in one race! Over one weekend 2300 of the best runners in the world gather for this crazy challenge! We watch the start, enjoy a normal day, watch their headlights bounce around the hills at night, go to bed, wake up……. and they are still running! An incredible feat of endurance. Something to see, to admire, to support and applaud, and to be part of.

Chamonix Yoga Festival
July
This relatively young festival is growing in size and popularity each year and now attracts teachers and students from around the world at the beginning of Spring for a very calm and zen atmosphere in this amazing setting. Includes Meditation, Fen Shui, many other disciplines, and of course yoga workshops, lessons, and products
Other great events
La Fête des Guides de Chamonix
August
This year it's the 200years ! The Guides'll organize many suprises for you during this summer !
The guides of the 'Compagnie des Guides' relieve the stress of their incredibly hard job, by inviting everyone to share in an evening of fun and frivolity that each year tells a different story through a sound and light show that also shows off their skills with rappels, zip wire stunts and more on the Gaillands climbing wall culminating in some massive fireworks show and concert…– You will not see anything like it anywhere else. Great for kids and adults alike and supports a really good cause.
We are at your disposal throughout your stay to help you to organize, do not hesitate to contact our concierge service info@ten80holidays.com
Free Chamonix Tips Map
Subscribe to our newsletter and get the Ten80 bespoke Google Maps of Chamonix into your inbox, featuring all our favourite hangouts.
CONTACT US
We are here to help you make your choice...